< Back to article overview

12 November 2020
GoPal eliminates injuries to employees and damage to materials.
Logistics 4.0 has revolutionized the way businesses look at internal logistics. Specifically, Logistics 4.0 makes use of "smart" vehicles, pallets, and transport systems in order to create a fully networked supply stream that offers supply chain managers, shippers, and others the necessary visibility to route transport and perform other logistics tasks in an optimal way.
With our GoPal Autonomous Mobile Robots (AMRs), you will enjoy all the benefits of pallet transport automation – either as part of Logistics 4.0 automation or on its own. The GoPal AMRs are designed to eliminate the risk of injuries to employees and damage to materials. With its agile navigation, GoPal only requires the same amount of space as an employee with a pallet jack. GoPal can turn on its own axis. This alone places GoPal among the most maneuverable and agile AMRs on the market. Also featuring intelligent navigation, GoPal can make dynamic decisions on the fly. If GoPal comes across an obstacle or person, it will drive around it. If the path is completely blocked, GoPal will find the shortest alternate route to its destination.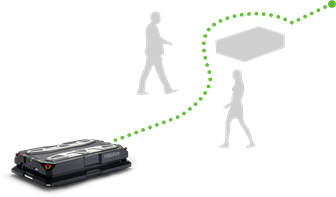 Data on all aspects of both individual AMR as well as system performance is collected and logged in the GoControl computer for use in connection with continuous operational optimization, troubleshooting and maintenance. When it comes to internal logistics, knowing exactly where your products are can determine how efficient your production is. Often, products can be misplaced or damaged leading to chaotic internal pallet transport and slow production. Fortunately, these scenarios can be avoided using the data collected with the GoControl. The GoPal can be fully integrated into your existing ERP/WMS systems. In this case, your ERP/WMS system will make delivery requests to the GoControl computer, which then places a delivery order in the robot system queue. These orders can be assigned priorities from low (e.g., waste removal) to high (e.g., materials supply).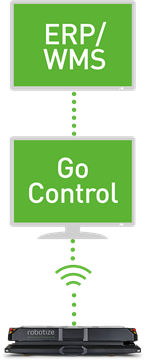 Unlike other companies that produce Autonomous Mobile Robots, robotize offers a complete solution: from the self-driving robots to the transit points and all necessary software. For the client, this means hassle-free automation with no need for onsite certification or third-party approval. Robotize takes full responsibility for the integration and installation of the GoPal. With GoPal, you get a fully integrated plug-and-play solution that is both safe and simple – with no surprises and no hidden costs.