< Back to article overview

17 November 2020
GoPal vs COVID-19
Safety has always had a big impact on the manufacturing sector, and both employees and employers benefit from it. Many companies have identified the need to comply with risk-reducing measures to minimize the spread of COVID-19. For most employees working from home has become "the new" way of working. Unfortunately, for manufacturing employees, working from home is not really an option. This means that safety concerns connected to COVID-19 have only amplified the importance of safety in the manufacturing sector.

The COVID-19 age has changed the way we do business. Many companies had to introduce rules, precautions, and equipment in order to protect their employees from getting infected. For instance, the COVID-19 age forces companies to supervise control site movement, minimize the number of people using each piece of equipment, stagger start times, shifts, breaks, and limit on-site interaction between workers. Social distancing guidelines also call for most manufacturing operations to run at decreased capacity. Employees are working longer shifts to keep up with output targets. Also, longer shifts increase the chances of injury and exposure to illnesses in the workplace. The effects on the workforce and the decrease in productivity related to COVID-19 is a top concern for manufacturing businesses. In uncertain times like the COVID-19 age, the GoPal fully-integrated solutions from robotize can help you ensure minimal human interaction, therefore helping you minimize the spread of COVID-19.
GoPal is a great solution to keep your internal logistics up and running while ensuring employees' safety by minimizing the spread of COVID-19. The GoPal autonomous mobile robot requires no direct human interaction to get the system into operation. Because of its self-driving abilities and intelligent navigation, GoPal can make dynamic decisions on the fly. If it comes across an obstacle (object or a person) – it will simply drive around it. If the path is completely blocked, the GoPal will find the shortest alternate route to its destination.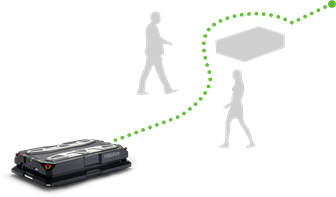 GoPal can successfully transport pallets in facilities that operate 24/7. This means that GoPal can help you release your workers from long shifts, therefore reducing the risk of injuries and exposure to illness in the workplace. The fully integrated solutions from robotize use modern LiFePO4 battery technology, which allows for both fast and partial charging. GoPal is charged automatically when it best fits their work schedule to ensure that there is always a GoPal ready and available to get the job done.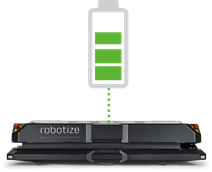 GoPal can multitask - it can easily deliver pallets to one or multiple destinations with minimal employee involvement. The GoPal features a call button - once pressed, GoPal will collect the pallet and deliver it to the standard destination configured in the GoControl computer (usually warehouse/storage). If the machine's output needs to be delivered to several different destinations, a 5-button call button can be installed or the order can be entered through a web browser on a tablet.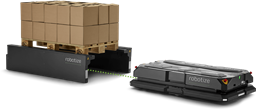 GoPal is an investment in your company's future. Being able to plan in advance is a great advantage, especially in the COVID-19 age, when things can be very unpredictable. GoPal collects data and reports on both individual autonomous mobile robot and system level, such as (number of orders processed, distance driven, idle/active time, number of lifts performed, the total distance driven, battery monitoring, etc). Collected data can be used for future planning and optimization of your internal logistics, therefore empowering your employees to tackle higher productivity tasks.