GoPal E24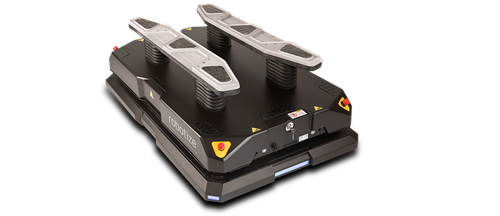 GoPal E24 functionalities
GoPal E24 is designed for heavy loads on Euro pallets, half pallets or similar pallets/cages. While it has the same ability to maneuver in tight areas as the GoPal 400, the higher load capacity makes it more versatile in use.
GoPal E24 specifications
---
APPLICATION
Autonomous Mobile Robot (AMR) intended for broader possible variety of pallet formats with medium-to-heavy weight payload.
---
DIMENSIONS
Length x Width x Height
1400 x 860 x 315 mm
---
PERFORMANCE
Battery time
6-10 hours or ~15 km depending on load conditions
Maximum speed
2.4 m/s (8.6 km/h)
Turning radius
850 mm (from robot center)
---
SAFETY
Laser scanners with 360° protection
4 x emergency stop buttons
Mechanical bumper with 360° protection
---
ADDITIONAL OBSTACLE AVOIDANCE SENSORS
3 x 3D camera. Two in the front and one in the back of the robot
---
BATTERY
Type / Voltage
LiFePO4 / 48V
Charge time
45 min (full charge)
Number of charges
Number of charges
---
CHARGER INTERFACE
Automatic docking interface in front of the robot
Connector in back of the robot for manually charging
---
COMMUNICATION
---
ENVIRONMENTAL
Operating temperature
-10°C to 45°C
Humidity
max. 95% non-condensing
---
FLOOR REQUIREMENTS
Friction coefficient (min.)
0,6
Maximum height of obstacles
4 mm
---
LOAD
---
PALLET TYPES
Standard EUR pallets / Standard 1/2 EUR pallets
Others on inquiry
---
PALLET CONDITION
Undamaged, original strength maintained (grade A or B)
---
RECOMMENDED LANE CONDITIONS
Operational lane width
200 cm
High speed lane width
300 cm